Hornady Transportation, LLC has an even brighter future with success of Builder's Transportation Company, LLC Merger
November 11th, 2020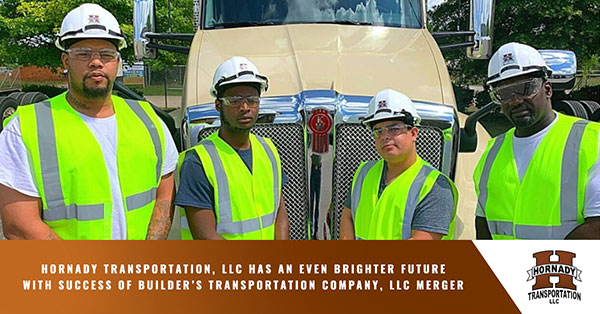 NEWS PROVIDED BY
Alex Lucas, AppVault
November 5th, 2020
Monroeville,Ala., [November 5th, 2020] –Hornady Transportation, LLC has announced its completed and successful operational merger with Builder's Transportation Company, LLC (BTC), which went into effect October 1, 2020. Both companies are part of Daseke, Inc., of Addison, Texas, the largest owner of flatbed, open-deck and specialty trucking capacity in North America. The merger was announced by Daseke in August 2019 as part of a company-wide operational plan. Headquartered in Monroeville, Ala., Hornady has been in operation since 1925,with a familial legacy. Their terminal in Birmingham supports the building materials and steel industries east of the Rockies with the merger resulting in a second terminal in Memphis, Tenn. The merger of BTC's operations has enabled Hornady to further diversify their freight mix and double in size while strengthening their service of the building materials, steel, oil and gas industries with a fleet of 406 late-model tractors and 605 flatbed trailers. In joining two companies with a combined service record of nearly 150 years, Hornady embraces a future of continued stability and growth as they further honor their commitment to quality and reliability. The added freight mix has also allowed for additional capacity and added staff in Monroeville, expanding drivers' career opportunities with Hornady as they continue to prioritize individual customer needs. Drivers can enjoy updated equipment, collaborative teams and unmatched support while making an impact within their communities and beyond.
"The merger goes beyond numbers. We're bringing together two innovative organizations who have a shared vision and trust in one another. We look forward to the positive changes to come and value our team members' support in this transition," said Chris Hornady, CEO.
As such, Hornady's mission remains -to succeed in operational excellence and provide industry-leading customer satisfaction.
About Hornady Transportation Hornady Transportation builds lasting customer relationships through our pledge of professional and ethical business practices with customers, vendors and employees. We're committed to continuous improvement of service, safety, and personnel while providing outstanding trucking careers for CDL Class A drivers.