Covenant Transport Announces Largest Pay Increase EVER
December 10th, 2020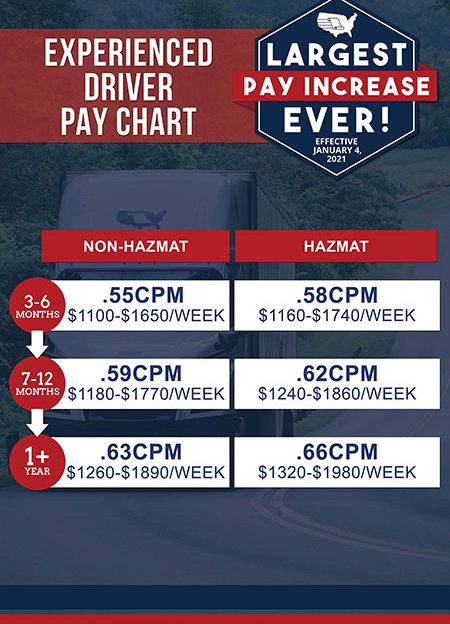 PRESS RELEASE
Chattanooga, Tenn. (December 8, 2020) — Covenant Logistics Group, Inc (NASDAQ/GS: CVLG) ("Covenant") – Emphasizing its commitment to make Covenant drivers the best paid in the industry, Covenant today announced the largest team driver pay increase in the carrier's 34-year history.

Effective January 4, 2021, Covenant will raise the base linehaul team driver pay rate by an average of 9 cents per mile across all driver types. The largest increases will be reserved for drivers with more than one year of experience, as a driver with one year of experience plus a HAZMAT endorsement will now start at a weekly non-per diem rate of 66 cents per mile, up from a previous starting rate of 50 cents per mile.
"We've been eager for some time now to announce a significant pay raise like this one," said David Parker, CEO of Covenant, noting that Covenant's last increased driver base pay five years ago, "Today's announcement is long overdue for our drivers."
With a goal of growing its team truck count in 2021, Covenant strategically crafted this pay package to substantially benefit current team drivers, while attracting both prospective experienced drivers and student drivers. This move is in line with an industry-wide impetus to put more drivers through CDL school and into professional driver positions.
"We believe first-year pay has to increase rapidly to entice more drivers to our industry," explained Joey Ballard, Senior Vice President of Recruiting. "In our new package, student drivers will receive four raises in their first 12 months with Covenant. Drivers will reach max pay of 66 cents per mile on their one-year anniversary and expect to see weekly checks of $1500-$1800 a week."
While some carriers are more cautious about the freight environment for 2021, Covenant's customer base ultimately solidified the company's confidence to proceed with this historic increase.
"Our customers have just been fantastic," said Sam Hough, Executive Vice President of Expedited Operations. "There's no doubt they are tracking the driver shortage and are feeling the capacity crunch. They've told us time and time again they will stand behind any initiative to secure drivers and, ultimately, capacity. We are very thankful to have true partners in our customer base."
There's no doubt Covenant's valued drivers will realize immediate rewards in the new year as Mr. Parker emphasized that the pay raise reflects Covenant's ongoing commitment to its team.
"We've said 'Thank you' to our drivers many times over the years, but now is the time for us give a substantial, financial reward to our fleet," Mr. Parker said."I can't tell you how excited I am to put millions of more dollars in the pockets of our team drivers in 2021."
Covenant will have Monday orientations both the weeks of Christmas and New Years for drivers wanting onboard prior to the January 4, 2021 increase. For more information, please call the Covenant recruiting team at 888-538-5040 or
visit jobs.covenanttransport.com.
—
About Covenant
Covenant Logistics Group, Inc., through its subsidiaries, offers a portfolio of transportation and logistics services to customers throughout the United States. Primary services include asset based expedited, dedicated, and irregular route truckload capacity, as well as asset-light warehousing, transportation management, and freight brokerage capability. In addition, Transport Enterprise Leasing is an affiliated company providing revenue equipment sales and leasing services to the trucking industry. Covenant's Class A common stock is traded on the NASDAQ Global Select market under the symbol, "CVLG."